| | |
| --- | --- |
| | |
| | |





My name is JOYCE BAILEY.
Life is a wonderful gift,
full of precious memories
that should never be forgotten.
our families friends should be at the
top of our list to celebrate their lives
with us and the joy they bring
into our lives.
Now these memories can be shared
so that you too can enjoy them forever.







We are all visitors to this time, this place.
We are all just passing through.
Our purpose here is to observe,
to learn, to grow,
to love..
.and then we return Home.







Wherever there is love
an angel is flying by.~

Angels are the essence of all that
is pure and sweet in Heaven






"Now these three remain: faith, hope, and love.
But the greatest
of these is love" (I Corinthians 13:13 NIV).






REMEMBER TO PUT GOD INTO
THE BEGINNING OF YOUR DAY
AND YOUR DAY WILL GO BETTER
GOD BLESS



As you got up this morning, I watched you, and hoped you would talk to Me, even if it was just a few words, asking My opinion or thanking Me for something good that happened in your life yesterday. But I noticed you were too busy, trying to find the right outfit to wear.


When you ran around the house getting ready, I knew there would be a few minutes for you to stop and say hello, but you were too busy. At one point you had to wait fifteen minutes with nothing to do except sit in a chair. Then I saw you spring to your feet. I thought you wanted to talk to Me but you ran to the phone and called a friend to get the latest gossip instead. I watched patiently all day long. With all your activities I guess you were too busy to say anything to Me.



I noticed that before lunch you looked around, maybe you felt embarrassed to talk to Me, that is why you didn't bow your head. You glanced three or four tables over and you noticed some of your friends talking to Me briefly before they ate, but you didn't. That's okay. There is still more time left, and I hope that you will talk to Me yet.



You went home and it seems as if you had lots of things to do. After a few of them were done, you turned on the TV. I don't know if you like TV or not, just about anything goes there and you spend a lot of time each day in front of it not thinking about anything, just enjoying the show. I waited patiently again as you watched the TV and ate your meal, but again you didn't talk to Me.



Bedtime I guess you felt too tired. After you said goodnight to your family you plopped into bed and fell asleep in no time. That's okay because you may not realize that I am always there for you.. I've got patience, more than you will ever know.... I even want to teach you how to be patient with others as well.



I love you so much that I wait everyday for a nod, prayer or thought, or a thankful part of your heart. It is hard to have a one-sided conversation.



Well, you are getting up once again. Once again I will wait, with nothing but love for you. Hoping that today you will give Me some time. Have a nice day!


Your friend,


GOD





LINCOLN'S TESTIMONY)




Abraham Lincoln was a backwoods-man who rose from humble beginnings to the heights of political power. During the dark days of the US Civil War, he served as a compassionate and resolute president. Depression and mental pain were his frequent companions. Yet the terrible emotional suffering he endured drove him to receive Jesus Christ by faith.
Lincoln told a crowd in his home-town in Illinois: "When I left Springfield, I asked the people to pray for me; I was not a Christian. When I buried my son, the severest trial of my life, I was not a Christian. But when I saw the graves of thousands of our soldiers, I then and there consecrated myself to Christ. I do love Jesus." Life's most painful tragedies can bring us to a deeper understanding of the Savior.
When two men walked the road to Emmaus, they were dumbfounded by the senseless murder of Jesus of Nazareth. Then a stranger joined them and gave scriptural insight about the suffering Messiah (Luke 24:26-27). The stranger was Jesus Himself, and His ministry to them brought comfort.
Heartache has a way of pointing us to the Lord Jesus, who has shared in our sufferings and can bring meaning to seemingly senseless pain. ---Dennis Fisher

Though tragedy, heartache, and sorrow abound
And many a hardship in life will be found,
Just put all your trust in the Savior of light,
For He can bring hope in the darkest of night. --D.De Haan

Suffering can teach us what
we can't learn in any other way.




THE SCARS OF LIFE


Some years ago, on a hot summer day in south Florida , a little
boy decided to go for a swim in the old swimming hole behind his house.
In a hurry to dive into the cool water, he ran out the back door,
leaving behind shoes, socks, and shirt as he went. He flew into the
water, not realizing that as he swam toward the middle of the lake, an
alligator was swimming toward the shore

His father working in the yard saw the two as they got closer and
closer together. In utter fear, he ran toward the water, yelling to his
son as loudly as he could.

Hearing his voice, the little boy became alarmed and made a U-turn
to swim to his father. It was too late. Just as he reached his father,
the alligator reached him. From the dock, the father grabbed his little
boy by the arms just as the alligator snatched his legs. That began an
incredible tug-of-war between the two. The alligator was much stronger
than the father, but the father was much too passionate to let go. A
farmer happened to drive by, heard his screams, raced from his truck,
took aim and shot the alligator.

Remarkably, after weeks and weeks in the hospital, the little boy
survived. His legs were extremely scarred by the vicious attack of the
animal. And, on his arms, were deep scratches where his father's
fingernails dug into his flesh
in his effort to hang on to the son he
loved.

The newspaper reporter who interviewed the boy after the trauma,
asked if he would show him his scars. The boy lifted his pant legs. And
then, with obvious pride, he said to the reporter, "But look at my arms.
I have great scars on my arms, too. I have them because my Dad wouldn't
let go."

You and I can identify with that little boy. We have scars, too.
No, not from an alligator, but the scars of a painful past. Some of
those scars are unsightly and have caused us deep regret . But, some
wounds, my friend, are because God has refused to let go. In the midst
of your struggle,
He's been there holding on to you.


The Scripture teaches that God loves you. You are a child of God
He wants to protect you and provide for you in every way But sometimes
we foolishly wade into dangerous situations, not knowing what lies
ahead. The swimming hole of life is filled with peril - and we forget
that the enemy is waiting to attack. That's when the tug-of-war begins -
and if you have the scars of His love on your arms, be very, very
grateful. He did not and will not ever let you go.

Please pass this on to those you love. God has blessed you, so
that you can be a blessing to others.
You just never know where a person
is in his/her life and what
they are going through


Never judge another persons scars,
because you don't know how
they got them.
Also, it is so important that
we are not selfish, to =
receive the blessings of these messages,
without forwarding them to =
someone else
Right now, someone needs to
know that God loves them, and you love =
them, too- enough to not let them go






Hope this will be as much of
blessing to you as it was for me




(Just keep PUSHing]



A man was sleeping one night in his cabin when suddenly his room filled with light, and God appeared. The Lord told the man he had work for himto do, and showed him a large rock in front of his cabin. The Lord explained that the man was to push against the rock with all his might...
So, this the man did, day after day for many years he toiled from sun up to sun down, his shoulders set squarely against the cold, massive surface of the unmoving rock, pushing with all of his might. Each night the man returned to his cabin sore and worn out, feeling that his whole day had been spent in vain.
Since the man was showing discouragement, the adversary (Satan) decided to enter the picture by placing thoughts into the weary mind (he'll do it every time): "You have been pushing against that rock for a long time and it hasn't moved. Either the task was impossible from the beginning or you are a dismal failure." These thoughts discouraged and disheartened the man. Satan said, "Why kill yourself over this? It was a cruel task to ask of you.Just put in your time, give the minimum effort; that will be good enough."
That's what the weary man planned to do, but decided to make it a matter of Prayer and to take his troubled thoughts to The Lord.
"Lord," he said, "I have labored long and hard in Your Service, putting all my strength to do that which you have asked. Yet, after all this time,



I have not even budged that rock by even half a millimeter. What is wrong? Why am I failing?"
The Lord responded compassionately,"My friend, when I asked you to serve Me and you accepted, I told you that your task was to push against the rock with all of your strength, which you have done.
Never once did I mention to you that I expected you to move it. Your task was to Push.
And now you come to Me with your strength spent, thinking that you have failed. But, is that really so? Look at you rself. Your arms are strong and muscled, your back shiny and brown; your hands are calloused from constant pressure, your legs have become massive and hard.
Through opposition you have grown much, and your abilities now surpass that which you used to have. True, you haven't moved the rock. But yourcalling was to be Obedient and to Push and to exercise your Faith and trust in My Wisdom. That you have done. Now, my friend, I will move the rock."
At times, when we hear a Word from God, we tend to use our own intellect to decipher what He wants, when actually what God wants is simpleObedience and Faith in Him. By all means, exercise The Faith that moves mountains, but know that it is still God Who Moves The Mountains.

When everything seems to go wrong.
Just P.U.S.H.!

When the job gets you down...
Just P.U.S.H.!

When people don't do as
you think they should... Just P.U.S.H!

When you can't find the
right work... Just P.U.S.H.!

When your money is "gone"
and the bills are due... Just P.U.S.H!

When people just don't
understand you... Just P.U.S.H .!

P = Pray
U = Until
S = Something
H = Happens




May the blessings of God fall
softly upon your pillow tonight






Rejoice in the LORD

God never moves without purpose or plan
When trying His servant and molding a man.
Give thanks to the LORD though your testing seems long;
In darkness He giveth a song.



I could not see through the shadows ahead;
So I looked at the cross of my Savior instead.
I bowed to the will of the Master that day;
Then peace came, and tears fled away.



Now I can see testing comes from above;
God strengthens His children and purges in love.
My Father knows best, and I trust in His care;
Through purging more fruit I will bear.



O rejoice in the LORD
He makes no mistake,
He knoweth the end of each path that I take,
For when I am tried
And purified,
I shall come forth as gold.








Valentine's Day With Jesus





Jesus does not send perfume
To linger in the air
Instead He sends salvation sweet
To show how much He cares.

He doesn't bring me candy hearts
In boxes of delight
Instead He always lets me know
I'm precious in His sight.





He doesn't send out pretty cards

Trimmed in shades of red
Instead He gave His life for me
His precious blood was shed.

He doesn't hand out fancy gifts
Like we would send to mother
Instead He sends a message clear
To always love each other.





He doesn't give me teddy bears
That whimper, "please be mine"
Instead He gave His heart to me
I wear it all the time.

He doesn't give me roses, pink
For all the world to see
Instead He gave eternal life
That's good enough for me!







A Christian Mother



God gives us many gifts,
But far above any other,
The first and best He gives us
Is the gift of a Christian mother.

Her head bows over the Scriptures
Teaching children from God's Word.
Her hands are always busy
Doing service for her LORD

Whenever her children need her
They know she's always there.
Her beauty's in the strength of faith
That she daily finds in prayer.

Her children love and bless her,
And in their lives we see
The lessons of the Saviour
That were learned at mother's knee.






A Prayer for Today





Heavenly Father,

thank You for working in my life.
Thank You for loving me so that
I can show love to those around me.
Keep me close to You, and help me be an
instrument of love to those around me.
In Jesus' Name.
Amen.









I pledge allegiance to the Flag
of the United States of America,
and to the Republic for which it stands:
one Nation under God, indivisible,
With Liberty and Justice for all.








LET US TAKE THE EXAMPLE
OF THE EAGLE






Did you know
that an eagle knows
when a storm is approaching
long before it breaks?
The eagle will fly to some high spot
and wait for the winds to come.
When the storm hits, it sets its
wings so that the wind will pick it up
and lift it above the storm.
While the storm rages below,
the eagle is soaring above it.

The eagle does not escape the storm.
It simply uses the storm to lift it higher.
It rises on the winds that bring the storm.

When the storms of life come upon us -
and all of us will experience them -
we can rise above them by setting our minds
and our belief toward God.
The storms do not have to overcome us.
We can allow God's power to lift us above them.

God enables us to ride the winds of the storm
that bring sickness, tragedy,
failure and disappointment in our lives.
We can soar above the storm.

Remember,
it is not the burdens of life
that weigh us down,
it is how we handle them.






Symbol of our
Freedom




The flag...


is a visible symbol of the ideal aspirations of the American people. It is the one focus in which all unite in reverential devotion. We differ in religion; we differ in politics; we engage in disputes as to the true meaning of the Constitution, and even challenge the wisdom of some of its provisions; we inject self-interest and cupidity into most of the ordinary transactions of daily life, but through the sanctifying folds of the flag, the collective intelligence of the nation rises superior to the wisdom of its parts, and thus ensures the perpetuity of the Republic."

Major General Arthur MacArthur







GOD WANTS TO TELL YOU....

Everything that is going wrong
in your life
today shall be well with you
this year. You have been destined to
make it and you shall surely achieve
all your goals this year.
For the remaining months of this year (2007),
all your agonies will be diverted
and victory and prosperity will be
incoming in abundance.
Today God has confirmed the
end of your sufferings,
sorrows, and pains because
HE that sits on the throne has remembered you.
He has taken away the hardships
and given you JOY.
He will never let you down.
I knocked at heaven's
door this morning,
God asked me... My child! What
can I do for you? And I said,
"Father, please protect and bless the person
reading this message"
... God smiled and answered...
Request granted.





Worry looks around,

sorry looks back,

Faith looks up."







Life is a gift!!!


Today, before you think of saying an unkind word,
think of someone who can't speak.
Before you complain about the taste of your food,
think of someone who has nothing to eat.
Before you complain about your husband or wife,
think of someone who's crying out to God for a companion.
Today, before you complain about life,
think of someone who went too early to heaven.
Before you complain about your children,
think of someone who desires children but they're barren.
Before you argue about your dirty house
because someone didn't clean or sweep,
think of the people who are living in the streets.
Before whining about the distance you drive,
think of someone who walks the same distance with their feet,
and, when you are tired and complain about your job,
think of the unemployed, the disabled and those
who wished they had your job.
before you think of pointing the finger
or condemning another,
remember that not one of us is without sin,
and we all answer to one Maker.
And, when depressing thoughts seem to get you down,
put a smile on your face
and thank God you're alive and still around.
Life is a gift . Live it, enjoy it,
celebrate it, and fulfill it.
People will forget what you said..
.People will forget what you did..
.But people will never forget
how you made them feel...





If you've ever felt love,
then you most certainly
Have been touched by an angel~





His Church Shall Stand!


In an unbroken line come the weary and lost,
as they're drawn to the Lord in their need;
He brings them in answer to the prayers of His saints,
who bow to their Savior as they plead.

For many long years, their assignment has been
the Lord's great commission to fulfill;
Their faithful intercession rings out day by day
as they strive to perform their Lord's will.

This church that was founded on Jesus Christ, the Rock,
has been battered and bruised through the years;
Still, her undying love and desire to serve God
has sustained her through trials and through tears.

And God in His mercy has kept her secure,
as He's held the church safely in His hand.
Until He calls her home by His sovereign grace,
He will empower her --
and His church shall stand!

~ Connie Faust ~







Press Through

Today's Scripture

"Keep on asking and it will be given to you;
keep on seeking and
you will find; keep on knocking
and the door will be opened to
you" (Matthew 7:7 AMP).

Today's Word from Joel and Victoria

In Mark, chapter five,
there was a woman
who had been sick for twelve
years.
The doctors gave her no hope.
But she heard that Jesus was
coming through her town.
Something deep on
the inside said to her,
"This is your season.
This is your time to get well." In
the natural, when she saw all the
people around Him, she thought,
"I'll never get to Him.
It's so crowded and
I'm weak. I just don't think
I can do this." She
almost missed her season.
But instead of dwelling on those negative thoughts,
she started reminding herself,
"If I can just get to
Jesus, I will be whole."
She made the choice to turn her
thoughts in the right direction.
She kept pressing her way
through the
crowd until she got just close
enough to Jesus to reach out
and touch the edge of His robe.
Instantly,
she was made whole.
Jesus said to
her, in Mark 5:34,
"Daughter, your faith has made you
well." Notice it's our faith
that activates God's
power.
What have you been
believing God for?
Don't give up!
Press through! Keep praying!
Keep asking! Keep seeking! God is
faithful! As you press through,
He'll meet your faith with His
miraculous power, and you'll step
forward in the victory He has
planned for you!

A Prayer for Today

Heavenly Father,
I come to You today with
an open and humble heart.
Iask You to fill me with Your
strength, peace, and joy so that I can
press through to victory today.
Show me the good plan
You have for me
and fill me with Your spirit of faith.
In Jesus' Name. Amen.










Good Morning!


Are you awake?
Got those hands praising God?
It's going to be a good day..
No matter what the day brings
it is going to be a good day..Why?
God has given it to you and
there is a purpose for you being in it..
I got to wondering last night
what good have I done since
have been on this earth.
Would it have been better
if I have not been born!
Have you ever wondered that?
Things happen and wonder
is brought to mind and I
know the devil put it there..
I was having one of those
(I can't figure this problem out
so let's just feel sorry for myself day!)
Than God brought back a memory
from another time and place in my life..
"You never know who's life
you have impacted with a kind word
or a smile and if you only
touched one person in your
life it was a life worth living"
Well praise the Lord I stopped
feeling sorry for myself and
I knew I have had a purpose and I praise
Him for each one of them..
when your down and everything
is pressing against you, you
Remember that God is in control
and you have impacted someone
and made a difference..PTL...
Isn't God good?

Give someone a Smile







God determines who walks into your life
....it's up to you to decide who you
let walk away, who you let stay,
and who you refuse to let go.

Father God

Bless all my friends
in whatever it is that
You know they may be
needing this day!
And may their life be full of your peace,
prosperity and
power as they seek to have
a closer relationship with you.
Amen.








Don't miss the poem at the end




Whatever your cross,
whatever your pain,
here will always be sunshine,

after the rain ....

Perhaps you may stumble,
perhaps even fall,
But God's always ready,

To answer your call ...

He knows every heartache,
sees every tear,
A word from His lips,

can calm every fear ...

Your sorrows may linger,
throughout the night,
But suddenly vanish,

dawn's early light ...

The Savior is waiting,
somewhere above,
To give you His grace,

and send you His love ..

Whatever your cross,
whatever your pain,"
God always sends rainbows ....

after the rain ... "








And God Said, "No"

I asked God to take away my pride, and God said "No"
He said it was not for Him to take away, but for me to give up.
I asked God to make my handicapped child whole, and God said, "No"
He said the body is only temporary.
I asked God to grant me patience, and God said, "No"
He said patience is a by-product of tribulation, it isn't granted
it's earned.
.
I asked God to give me happiness, and God said, "No"
He said He gives His blessings, Happiness is up to me.
I asked God to spare me from pain, and God said, "No"
He said suffering draws me apart from worldly cares and
brings me closer to Him.
I asked God to make my spirit grow and God said, "No"
He said I must grow on my own, but He will prune me to make
me fruitful.
I asked God if he loved me and God said,"Yes"
He gave His only Son who died for me, and I will be in
heaven some day, because I believe.
I asked God to help me love others as much as He loves me,
and God said, "Ah, finally you have the idea.!"





"I WISH YOU ENOUGH"



Recently I overheard a
mother and daughter in
their last moments together
at the airport.
They had announced the departure
Standing near the security gate,
they hugged and the mother said,
"I love you and I wish you enough".

The daughter replied,
"Mom, our life together has
been more than enough.
Your love is all I ever needed.
I wish you enough, too, Mom".
They kissed and the daughter left.

The mother walked
over to the window
where I was seated.
Standing there I could se
she wanted and needed to cry.
I tried not to intrude on her privacy
but she welcomed me in by asking,
"Did you ever say good-bye
to someone knowing it would be forever?
.Yes, I have," I replied.
"Forgive me for asking,
but why is this a forever good-bye?".
"I am old and she lives so far away.
I have challenges ahead
and the reality is –
the next trip back will be for my funeral,"

she said."When you were saying good-bye
, I heard you say, 'I wish you enough'
. May I ask what that means?"
She began to smile.
"That's a wish that has been
handed down from other generations.
My parents used to say it to everyone".

She paused a moment
and looked up as if trying to
remember it in detail
and she smiled even more.

"When we said ,
'I wish you enough'
, we were wanting the other person
to have a life filled with just enough
good things to sustain them

. Then turning toward me,
she shared the following as i
f she were reciting it from memory.

I wish you enough sun
to keep your attitude bright no matter
how gray the day may appear.

I wish you enough rain to
appreciate the sun even more.

I wish you enough
h happiness to keep your
spirit alive and everlasting.

I wish you enough pain
so that even the smallest
of joys in life may appear bigger

.I wish you enough gain
to satisfy your wanting.

I wish you enough loss
to appreciate
all that you possess.

I wish you enough hellos
to get you
through the final good-bye.

She then began to cry and walked away

.They say it takes a minute
to find a special person,
an hour to appreciate them,
a day to love them
an entire life to forget them.



Angels never seem so far away,
They touch our lives most every day

In little kindnesses, and in people who

Have loving hearts, just like you.





ANGELS WATCHING
OVER US




"REALITY"

Love him or hate him, he sure
hits the nail on the head with this!

To anyone
with kids of any age,
here's some advice.
Bill Gates recently gave a
speech
at a High School about 11 things
they did not and will not learn in
school.
He talks about how feel-good,
politically correct teachings created a
generation of kids with no concept
of reality and how this concept set
them up for
failure in the real world.

Rule 1: Life is not fair - get used to it!

Rule 2: The world won't care about your
self-esteem. The world will
expect
you to accomplish something BEFORE
you feel good about yourself.

Rule 3: You will NOT make $60,000
a year right out of high school. You
won't be a vice-president with a
car phone until you earn both.

Rule 4: If you think your
teacher is tough,
wait till you get a boss.

Rule 5: Flipping burgers is not
beneath your dignity.
Your Grandparents
had a different word for
burger flipping -
they called it opportunity.

Rule 6: If you mess up,
it's not your parents' fault,
so don't whine
about
your mistakes, learn from them.

Rule 7: Before you were born,
your parents weren't as
boring as they are
now. They got that way
from paying your bills,
cleaning your clothes and
listening to you talk about how
cool you thought you were.
So before you
save the
rain forest from the parasites
of your parent's generation,
try delousing the
closet in your own room.

Rule 8: Your school may have done
away with winners and losers, but life
HAS NOT.
In some schools they have
abolished failing grades
and they'll give you
as MANY TIMES as you
want to get the right answer.
This doesn't bear the
slightest resemblance to
ANYTHING in real life.

Rule 9: Life is not divided
into semesters.
You don't get summers off
and
very few employers are interested in
helping you FIND YOURSELF.
Do that on
your own time.

Rule 10: Television is NOT real life.
In real life people actually have
to leave the coffee shop
and go to jobs.

Rule 11: Be nice to nerds.
Chances are you'll
end up working for one.


If you can read this - Thank a teacher!
If you are reading it in English-
Thank a soldier




Always Believe In
The Power Of Angels


LOVE LINKS

You weave the chains you wear in life,

And with them you are bound;

So let your chains be links of love

Where happiness is found.




May each day form a link of love

Unfolding cheerful deeds,

And reaching out a helping hand

To others found in need.




For when you give your caring best,

It is God who then responds,

And he will guide you on his path,

Where ever love abounds.




So let your life join links of love,

Where faith will keep you sound,

With God and his abiding love

May you be ever found.





Cherokee Indian Youth Rite


Do you know the legend of the Cherokee Indian youth's rite of passage?
His father takes him into the forest, blindfolds him and leaves him
alone.
He is required to sit on a stump the whole night and not remove the
blindfold until the rays of the morning sun shine through it. He
cannot cry out for help to anyone.
Once he survives the night, he is a
MAN.
He cannot tell the other boys of this experience, because each lad
must come into manhood on his own.
The boy is naturally terrified. He can hear all kinds of noises. Wild
beasts must surely be all around him. Maybe even some human might do
him harm. The wind blew the grass and earth, and shook his stump, but
he sat stoically, never removing the blindfold. It would be the only
way he could become a man!
Finally, after a horrific night the sun appeared and he removed his
blindfold. It was then that he discovered his father sitting on the
stump next to him. He had been at watch the entire night, protecting
his son from harm.
We, too, are never alone. Even when we don't know it, our Heavenly
Father is watching over us, sitting on the stump beside us When
trouble comes, all we have to do is reach out to Him.




-------------------------------------------

THIS IS A BEAUTIFUL STORY
TAKE TIME TO READ IT


She jumped up as soon as she saw

the surgeon

come out of the operating room. She said: "How is

my little boy? Is he going to be all right? When can

I see him?"


The surgeon said, "I'm sorry. We did all we could,

but your boy didn't make it."



Sally said, "Why do little children get cancer?

Doesn't God care any more? Where were you,

God, when my son needed you?"



The surgeon asked, "Would you like some time

alone with your son? One of the nurses will be out

in a few minutes, before he's transported to the

university."




Sally asked the nurse to stay with her while she

said good-bye to son. She ran her fingers lovingly

through his thick red curly hair.



"Would you like a lock of his hair?" the nurse

asked.





Sally nodded yes. The nurse cut a lock of the

boy's hair, put it in a plastic bag and handed it to

Sally. The mother said, "It was Jimmy's idea to

donate his body to the University for Study. He

said it might help somebody else. "I said no at

first, but Jimmy said, 'Mom, I won't be using it after

I die. Maybe it will help some other little boy spend

one more day with his Mom." She went on, "My

Jimmy had a heart of gold. Always thinking of

someone else. Always wanting to help others if he

could."





Sally walked out of Children's mercy Hospital for

the last time, after spending most of the last six

months there. She put the bag with Jimmy's

belongings on the seat beside her in the car. The

drive home was difficult. It was even harder to

enter

the empty house. She carried Jimmy's belongings,

and the plastic bag with the lock of his hair to her

son's room. She started placing the model cars

and other personal things back in his room exactly

where he had always kept them. She laid down

across his bed and, hugging his pillow, cried

herself to sleep.





It was around midnight when Sally awoke. Laying

beside her on the bed was a folded letter.

The letter said:



"Dear Mom, I know you're going to miss me; but

don't think that I will ever forget you, or stop

loving you, just 'cause I'm not around to say I LOVE

YOU. I will always love you, Mom, even more with

each day. Someday we will see each other again.

Until then, if you want to adopt a little boy so you

won't be so lonely, that's okay with me. He can

have my room and old stuff to play with. But, if you

decide to get a girl instead, she probably wouldn't

like the same things us boys do. You'll have to buy

her dolls and stuff girls like, you know. Don't be

sad thinking about me. This really is a neat place.

Grandma and Grandpa met me as soon as I got

here and showed me around some, but it will take

a long time to see everything. The angels are so

cool. I love to watch them fly. And, you know

what? Jesus doesn't look like any of his pictures.

Yet, when I saw Him, I knew it was Him. Jesus

himself took me to see GOD! And guess what,

Mom? I got to sit on God's knee and talk to Him,

like I was somebody important. That's when I told

Him that I wanted to write you a letter, to tell you

good-bye and everything. But I already knew that

wasn't allowed. Well, you know what Mom? God

handed me some paper and His own personal pen

to write you this letter. I think Gabriel is the name

of the angel who is going to drop this letter off to

you. God said for me to give you the answer to

one of the questions you asked Him 'Where was He

when I needed him?' "God said He was in the

same place with me, as when His son Jesus was

on the cross. He was right there, as He always is

with all His children.



Oh, by the way, Mom, no one else can see what

I've written except you. To everyone else this is

just a blank piece of paper. Isn't that cool? I have

to give God His pen back now. He needs it to write

some more names in the Book of Life. Tonight I

get to sit at the table with Jesus for supper. I'm,

sure the food will be great.





Oh, I almost forgot to tell you. I don't hurt anymore.

The cancer is all gone. I'm glad because I couldn't

stand that pain anymore and God couldn't stand to

see me hurt so much, either. That's when He sent

The Angel of Mercy to come get me. The Angel

said I was a Special Delivery! How about that?


Signed with Love from God, Jesus & Me.




I WOULD LIKE TO THANK ALL
THE VISITORS TO THIS SITE.
I HOPE THAT SOMETHING
THAT YOU HAVE SEEN
HAS BEEN A BLESSING TO YOU
I WILL KEEP PUTTING UPLIFTING STORIES
ON THIS SITE AS LONG AS I CAN.
MAY GOD TRULY BLESS YOU AND
GIVE YOU THE FAITH TO KEEP
LOOKING TO GOD FOR YOUR HELP.
IF YOU HAVE A STORY OR SOMETHING
THAT WOULD BE UPLIFTING OR
INFORMATIVE
PLEASE CONTACT ME AT THE
TOP OF THE PAGE

THANK YOU AGAIN
AND GOD BLESS



God's Boxes

I have in my hands two boxes,
Which God gave me to hold.
He said, "Put all your
sorrows in the black box,
And all your joys in the gold."

I heeded His words,
and in the two boxes,
Both my joys and sorrows I stored,
But though the gold
became heavier each day,
The black was as light as before.

With curiosity, I opened the black,
I wanted to find out why,
And I saw, in the base of the box, a hole,
Which my sorrows had fallen out by.

I showed the hole to God, and mused,
"I wonder where my sorrows could be!"
He smiled a gentle smile and said,
"My child, they're all here with me.."

I asked God, why He
gave me the boxes,
Why the gold and the
black with the hole?
"My child, the gold is for you
to count your blessings,
The black is for you to let go."

We should consider all of our
friends a blessing.
Send this to a friend today
just to let them know you
are thinking of them and
that they are a joy in your life.

A ball is a circle, no beginning, no end.
It keeps us together
like our Circle of Friends.
But the treasure inside for you to see,
Is the treasure of friendship
you've granted to me.





Hear My Prayer, Oh Lord ~


Hear my prayer, O LORD, give ear to
my supplications: in thy faithfulness
answer me, and in thy righteousness.
Psalm 143:1

I lift up all my worries, Lord,
Ev'ry burden, and ev'ry care,
As I humbly bow before Thee,
Oh, Lord, please hear my prayer.

I pray for all my loved ones, Lord,
Although they may be far away;
Watch over them, and keep them safe,
And bless them, Lord I pray.

I pray for those who don't know Thee,
The lost ones I see everywhere
Those in need of Thy salvation:
Oh, Lord, please hear my prayer.

I pray for the sick and ailing,
And all of those who are in need;
For the helpless, and the homeless,
I ask Thee to intercede.

I pray for your forgiveness, Lord,
When I fall into Satan's snare;
Forgive and cleanse me, Lord I pray,
Oh, Lord, please hear my prayer.

I thank Thee for all Thy gifts, Lord---
Great blessings beyond all compare;
And thank Thee most of all, dear Lord,
For listening to my prayer!







GRANDMA'S HAND

This is truly beautiful!

Some of you may not be a grandmother,
but you had one, will be one
or know one.
This is beautiful.






Grandma, some ninety plus years,
sat feebly on the patio bench.
She didn't move, just sat with her
head down staring at her hands.
When I sat down beside her she didn't
acknowledge my presence and the longer
I sat I wondered if she was OK. Finally,
not really wanting to disturb her but
wanting to check on her at the same time,
I asked her if she was OK.

She raised her head and looked at
me and smiled. "Yes, I'm fine, thank
you for asking," she said
in a cle ar str ong voice.

"I didn't mean to disturb you,
Grandma, but you were just sitting
here staring at your hands and
I wanted to make sure you were OK,"
I explain ed to her.




"Have you ever looked at your hands?"
she asked. "
I mean really looked at your hands?"
I slowly opened my hands and stared
down at them. I turned them over,
palms up and then palms down. No,
I guess I had never really looked at
my hands as I tried to figure
out the point she was making.

Grandma smiled and
related the following story:

"Stop and think for a moment about
the hands you have, how they
have served you well throughout your years.




"These hands, though wrinkled, shriveled
and weak have been the tools I have
used all my life to reach out and
grab and embrace life. They braced
and caught my fall when as a toddler
I crashed upon the floor. They put
food in my mouth and clothes on my
back. As a child my mother taught me
to fold them in prayer. They tied my
shoes and pulle d on my boots.

"They held my husband and wiped
my tears when he went off to war.
They have been dirty, scraped
and raw, swollen and bent.!

"They were uneasy and clumsy when
I tried to hold my newborn son.
Decorated with my wedding band
they showed the world that I was
married and loved someone special.




"They wrote my letters
to him and trembled
and shook when
I buried my parents
and spouse. They have held my
children and grandchildren,
consoled neighbors, and shook in
fists of anger when
I didn't understand.
They have covered
my face, combed my
hair, and washed and cleansed
the rest of my body.




"They have been sticky and wet, bent
and broken, dried and raw. And to
this day when not much of anything
else of me works real well these hands
hold me up, lay me down, and
again continue to fold in prayer.




"These hands are the mark of where
I've been and the ruggedness of life.
But more importantly it will be these
hands that God will reach out and
t ake when he leads me home. And
with my hands He will lift me to His
side and there I will use these
hands to touch the face of Christ."




I will never look at my hands the same
again. God reached out and took my
grandma's hands and led her home.
When my hands are hurt or sore or
when I stroke the face of my children
and husband I think of Grandma.
I know she has been held by the hands
of God. And I, too, want to touch the
face of God and feel His
hands upon my face.






Opening PRAYER at Kansas Senate


It seems prayer still upsets some people.
Please read....

When Minister Joe Wright was asked
to open the new session of the
Kansas Senate, everyone was
expecting the usual generalities, but
this is what they heard;

"Heavenly Father,

We come before you today
To ask your forgiveness and
To seek your direction and guidance.

We know Your Word says,
"Woe to those who call evil good"
But that is exactly what we have done.
We have lost our spiritual equilibrium
And reversed our values.

We have exploited the poor and
Called it the lottery.

We have rewarded laziness
And called it welfare.

We have killed our unborn
and called it choice.

We have shot abortionists
And called it justifiable.

We have neglected to discipline
Our children and called it
Building self esteem.

We have abused power
And call ed it politics.

We have coveted our neighbour's
Possessions and called it ambition.

We have polluted the air
With profanity and
Pornography and called it
Freedom of speech and expression.

We have ridiculed the time
Honored values of our
Forefathers and called it enlightenment.

Search us, Oh, God,
And know our hearts today;
Cleanse us from every sin
And set us free.

Amen!"

The response was immediate.
A number of legislators walked Out
during the prayer in protest.




In 6 short weeks, Central Christian Church,
where Rev. Wright is
pastor, logged more than
5,000 phone calls with only 47 Of those
calls responding negatively.
The church is now receiving
international requests for copies
of this prayer from India, Africa and
Korea.




Your guardian angel knows you
inside and out,
And loves you just the way you are.~


Commentator Paul Harvey aired this
prayer on his radio Program, "The
Rest of the Story," and received
a larger response to this program th an
any other he has ever aired.

With the Lord's help,
may this prayer sweep over our Nation and
wholeheartedly become our desire
so that we again can be called "one
nation under God."

If possible, please pass this
prayer on to your friends "If you
don't stand for something,
you will fall for anything."




Think about this:
If you forward this prayer
to everyone On your
email list, in less than 30 days
it would be heard by The world.

How many people in your address book
will not receive This prayer ?

I just did!


DO WE REALLY KNOW HOW OUR
LEGISLATORS REALLY FEEL ABOUT GOD?
WE NEED TO PRAY FOR OUR LEADERS.




Keep a spare angel in your pocket.
Angels carry high-beam lights
To help you through the darkest hours.~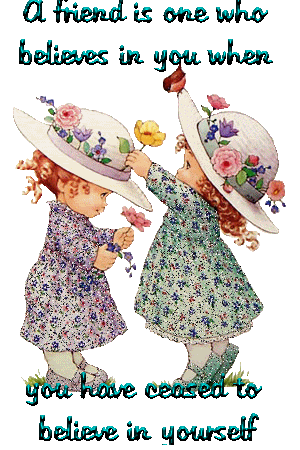 I shall pass through this world but once.
Any good therefore that I do
or any kindness that
I can show to any human being
let me do it now.
Let me not defer or neglect it,
for I shall not pass this way again.~






Some people come into our lives
and quietly go.
Others stay for a while
and leave footprints on our hearts
and we are never the same.






May today
there be peace within.
May you trust God that you are exactly
where you are meant to be
May you not forget the infinite possibilities
that are born of faith.
May you use those gifts that you have received,
and pass on the love that
has been given to you.
May you be content knowing
you are a child of God
... Let His presence settle into your bones,
and allow your soul the freedom to sing,
dance, praise and love.
It is there for each and every one of us.





"Courage doesn't always roar.
Sometimes courage is the quiet voice
at the end of the day saying,
"I will try again tomorrow."





HOPE is like the sun,
which, as we journey toward it,
casts the shadow of
our burden behind us.
Samuel Smiles (1812-1904)







LOVE one human being
purely and warmly,
And you will love all.
The heart in this heaven,
Like the sun in its course,
Sees nothing, from the dewdrop
To the ocean, but a mirror which it
Brightens, and warms and fills.
Jean Paul Richter (1763-1826)




We can do nothing well
Without JOY,
And a good conscience
Which is the ground of Joy.
Richard Sibbs (1577-1635)






PEACE is the golden wisp
That binds a sheaf of blessings.
Katherine Lee Bates (1859-1922)







May the love
Of your angel
sweetly unfold you,
gently uplift you,
comfort and hold you.




By Jill Allison Eisnaugle


The Lord looked to the coal fields
Searching for His Chosen Ones
Their earthen purpose had been fulfilled
And their mining time was done
So, He Came across the valley
Where the workers could be found
And upon the final tally
Twelve brave souls were Heaven bound.





These angels showed great courage
In their workplace, every day
They gave hope and e'er encouraged
Every step along the way
Thus, the Lord, within a second
Shined His Light for them to see
As a golden staircase beckoned
And their souls were, at last, free.





He Considered their dear loved ones
And the grief that would befall
These men were fathers and sons
Brothers and friends, after all
So, He Instilled much compassion
In this country for their plight
Then, within His Divine Fashion
Twelve men's souls were set for flight.




The Lord looked to the coal fields
On that West Virginia dawn
The miners purpose had been fulfilled
And their mining days were gone
But their spirits shall be with us
Every day, our whole lives through
Twelve angels with grace and finesse
Our prayers shall be e'ermore with you.
Jill Eisnaugle's Poetry Collection
Copyright 2006 Used With Permission



Author's Note:
This poem was written in memory
of the 12 West Virginia
mining accident victims.
As a former "Mountain State"
resident, my thoughts
and prayers are with these
brave men, their families
and friends, and the citizens
of the state of West Virginia.
May God Grant you peace
in this difficult time.
Jill



This poem was published in
"A Place of ... Amazing Grace,"
a special chapbook
published by Art With
Words Chapbook Publications with
all proceeds going to the
Miners Assistance Fund set up
by the West Virginia Council
of Churches.
Additional information on
ordering available from:
Debra J. Harmes-Kurth, Publisher



THE TRAGEDY AT
VA TECH.




Please join me in a prayer for the victims,
families. friends and
the students of Va Tech.
I hope this prayer makes it's way
to some of the friends and families
of Va Tech. to let them know they
are in our thoughts and prayers.
PLEASE PASS THIS PRAYER ON.


DEAR LORD,
WE WOULD LIKE TO SEND OUR
PRAYERS OUT TO ALL THOSE
EFFECTED IN THIS TRAGEDY AT VA TECH.
LORD, WE KNOW THROUGH YOUR
WORDS THAT THOSE WHO GRIEVE
OR MOURN WILL BE COMFORTED
AND THOSE WHO ARE HURT
OR SICK MAY BE HEALED.

LORD, WE PRAY THAT YOU COMFORT
THOSE WHO HAVE LOST
LOVED ONES IN THIS TRAGEDY
AND TO HEAL THOSE INJURED.
WE ASK ALSO THAT YOU HEAL
THE HEART AND SOULS OF
ALL AFFECTED BY THIS
.
LORD,
HELP OUR COUNTRY,
IT'S LEADER
AND IT'S CITIZENS
TO FIND THE WISDOM, STRENGTH
AND COURAGE TO KNOW AND
TO DO WHAT WE NEED TO
PREVENT SUCH A TRAGEDY
FROM HAPPENING AGAIN
.
HELP US LORD TO REMEMBER THAT
LIFE IS VERY SHORT
AND TO USE THE TIME WE HAVE
TO LET OUR FRIENDS AND FAMILY
KNOW HOW MUCH WE DO LOVE
AND APPRECIATE THEM.
LET THIS REMIND US
TO BE KIND TO OTHERS,
TO COMFORT OTHERS
TO TREAT OTHERS AS WE
WOULD WANT TO BE TREATED
TO GIVE TO THOSE IN NEED
AND TO FORGIVE AS
WE WOULD WISH TO BE FORGIVEN.
MAY WE REMEMBER THAT
ABOVE ALL YOU ARE THE WAY
AND THE LIGHT OF THE WORLD.
IN JESUS NAME,
AMEN.





You are not forgotten, loved one
Nor will you ever be,
As long as life and memory last
We will remember thee.
We miss you now, our hearts are sore,
As time goes by we'll miss you more.
Your loving smile, your gentle face
No one can fill your vacant place.


MAY YOU FIND COMFORT




IN LOVING MEMORY
OF ALL THE LOVED ONES
LOST IN THE
OKLAHOMA BOMBINGS


PLEASE READ
YOU WILL BE BLESSED
BY IT.

My name is Mildred Honor.

I am a former elementary school
music teacher from Des Moines, Iowa .
I've always supplemented my income
by teaching piano lessons-something
I've done for over 30 years.


Over the years I found that children
have many levels of musical ability.
I've never had the pleasure of having a prodigy
though I have taught some talented students
However I've also had my share of what
I call "musically challenged" pupils.
One such student was Robby.
Robby was 11 years old
when his mother (a single Mom)
dropped him off for his first piano lesson.
I prefer that students (especially boys!)
begin at an earlier age, which I explained to Robby



But Robby said that it had always
been his mother's dream
to hear him play the piano.
So I took him as a student.
Well, Robby began with his piano lessons
and from the beginning I thought it
was a hopeless endeavor.
As much as Robby tried,
he lacked the sense of tone
and basic rhythm needed to excel.
But he dutifully reviewed his scales
and some elementary pieces that
I require all my students to learn
Over the months he tried and tried
while I listened and > >>> cringed
and tried to encourage him.
At the end of each weekly lesson > >>>
he'd always say,


"My mom's going to hear me play someday.
" But it seemed > >>> hopeless.
He just did not have any inborn ability .
I only knew his > >>> mother from a distance
as she dropped Robby off or waited
in her aged car to pick him up.
She always waved and smiled but never stopped in
Then one day Robby stopped coming to our lessons
I thought about calling him but assumed
because of his lack of ability,
that he had decided to pursue something else.
I also was > >>> glad that he stopped coming.
He was a bad advertisement for my teaching


Several weeks later
I mailed to the student's homes a flyer
on the up coming recital.
To my surprise Robby (who received a flyer)
asked me if he could be in the recital.
I told him that the recital was for current pupils
and because he had dropped out
he really did not qualify.
He said that his mother had been sick
and unable to take him to
piano lessons but he was still practicing
"Miss Honor, I've just got to > >>> play!"
he insistedI don't know what led
me to allow him to play in the recital.
Maybe it was his persistence or
maybe it was something inside
of me saying that it would be all right.
The night for the recital came. > >>>
The high school gymnasium was
packed with parents, friends and > >>>
relatives. I put Robby up last in the program
before I was to come up > >>>
and thank all the students
and play a finishing piece.


I thought that > >>>
any damage he would do would come
at the end of the program and I could > >>>
always salvage his poor performance
through my "curtain closer."> >>>> >>>
Well, the recital went off without a hitch.
The students had > >>> been practicing and it showed.
Then Robby came up on stage.
His clothes > >>> were wrinkled and
his hair looked like he'd run
an eggbeater through it
"Why didn't he dress up
like the other students?"
I thought. "Why didn't > >>>
his mother at least make him comb
his hair for this special night?"> >>>> >>>
Robby pulled out the piano bench
and he began.


I was > >>> surprised when
he announced that he had chosen
Mozart's Concerto #21 in > >>> CO Major.
I was not prepared for what I heard next.
His fingers were > >>> light on the keys,
they even danced nimbly on the ivories.
He went from > >>> pianissimo to fortissimo.
From allegro to virtuoso
His suspended chords > >>>
that Mozart demands were magnificent!
Never had I heard Mozart played so > >>>
well by people his age.
After six and a half minutes
he ended in a grand > >>> crescendo
and everyone was on their feet in wild applause.
> >>> Overcome and in tears I ran up on stage
and put my arms > >>> around Robby in joy.
"I've never heard you play like that Robby!
How'd > >>> you do it? "


Through the microphone Robby explained:
"Well Miss Honor . > >>>
Remember I told you my Mom was sick?
Well, actually she had cancer and
passed away this morning.
And, well . . . She was born deaf so tonight
was the first time she ever heard me play.
I wanted to make it special
There wasn't a dry eye
in the house that evening.
As the > >>> people from Social Services
led Robby from the stage to be
placed into > >>> foster care
, I noticed that even their eyes were red
and puffy and I > >>>
thought to myself how much richer
my life had been for taking Robby as > >>>
my pupil.> >>>> >>> No, I've never had a prodigy
but that night I became a > >>>
prodigy. . . Of Robby's.


He was the teacher and I was the pupil for it
is he that taught me the meaning of
perseverance and love and believing
in yourself and maybe even taking
a chance in someone

Robby was killed in the
senseless bombing of the Alfred P.
Murrah Federal Building in Oklahoma City
in April of 1995.


And now, a > >>>
footnote to the story.> >>>> >>>
The person who sent > >>>
this to you believes that
we can all make a difference.
So many > >>>
seemingly trivial interactions between
two people present us with a > >>> choice:
Do we act with compassion
or do we pass
up that opportunity and
leave the world a bit colder in the process ?


May God bless you today,
tomorrow and always
If God didn't have a purpose for us
We wouldn't be here





We feel so sad when those we love
Are called to live in the home above,
But why should we grieve
when they say good-bye
And go to live in a cloudless sky?
For they have but gone to prepare the way,
And we'll meet them again some happy day,
For God has told us that nothing can sever
A life He created to live forever.
So let God's promise soften our sorrow
And give us new strength
for a brighter tomorrow.
Helen Steiner Rice




THE STRAYING LAMB


The Shepherd loved His little lamb
and gave it His tender care...
and followed it with His loving eyes
as it wandered here and there.
And as He sat by His grazing flock
who so meekly His voice obeyed...
He pondered sadly His little lamb
as again and again it strayed.


The little lamb had a loving heart,
and adored His Shepherd, true...
but would turn aside and seek his
own way as lambs will so often do.
With His gentle voice the Shepherd called,
to His loved and straying lamb...
"Come back, little one, for you are not safe
unless you are where I am




But still the lamb would soon forget
and unthinkingly wander away...
and not really noticing what he did,
from the Shepherd's side would stray.
Until one day, the Shepherd kind took
His rod in His gentle hand...
and what He then did seemed
so cruel that the lamb
could not understand.



For with one sharp and well-aimed blow
down the rod so swiftly came...
that it broke the leg of the little lamb
and left it crippled and lame.
Then the little lamb, with a cry of pain,
fell down upon his knees...
and looked up at his Shepherd,
as though to say,
"Won't you explain this, please?"



Then he saw the love in the Shepherd's eyes
as the tears ran down His face...
as He tenderly set the broken bone,
and bound it back in it's place.
Now he was utterly helpless,
he could not even stand...
He must trust himself completely
to his Shepherd's loving hand.



Then day by day, `til the lamb was healed,
from the flock he was kept apart...
and carried about in the Shepherd's arms,
and cradled near to His heart.
And the Shepherd would whisper gentle words
into his now listening ear...
thus he heard sweet words of love
that the other sheep could not hear.



He felt the warmth of the Shepherd's arms
and the beat of His faithful heart...
until it came a blessing to seem
by his weakness to be set apart.
Every need of the little lamb by his Shepherd
so fully was met...
that through his brokenness
he learned what he never again would forget.



And as the broken bone was healed,
and once more became whole and strong...
wherever the Shepherd's path would lead,
the lamb would follow along.
Thus at the Shepherd's side
he walked so closely, day by day...
For once a lamb has a broken leg,
it will never again go astray.
For the cords of love had bound it so in
its hour of weakness and need...
That it had no desire to wander away,
when once again it was freed


Could it be you are broken today,
and cannot understand...
the painful blow of the Shepherd's rod,
now believe it came from His hand?
He only seeks by this painful thing,
for a time to call you apart...
to cradle you close in His loving arms,
and draw you near to His heart.




So look up into your Shepherd's eyes
and earnestly seek His face...
and prove in the hour of your weakness
and need the sufficiency of His grace.
For as you are borne in His loving arms
and carried there, day by day...
He will bind you so close with the cords
of His love that never again will you stray!





The Lord is my shepherd;
I shall not want."
(Psalm 23:1)







THE END TIMES

BIBLE PROPHECY FULFILLED

A NEW HEAVEN AND EARTH


And I saw a new heaven and a new earth,
for the first heaven and the
first earth had passed away."
(Revelation 21:1) NKJ


The word millennium
means one thousand years
. In the Book of Revelation,
the Millennial Kingdom
will be a thousand year
reign of Christ on the earth.
Jesus will come and physically
establish His kingdom
, while Satan will be bound
in the bottomless pit
and unable to wreak havoc
during this period of time.
Animals will become peaceful...
life span will increase..
.there will be an end to wars...
and Jesus
will be recognized as the
King of kings and Lord of lords,
the true Messiah. God the Father
will manifest the
true glory of His Son.
The Millennium will be a time
of great prosperity, activity, quietness,
assurance, peace, and the violent nature
of the animal world will no longer exist.



When the one thousand
years have passed,
the final rebellion of
Satan will take place.
It will be his last attempt
at deceiving the nations,
but he will take his
final exit as he is cast
into the lake of fire and brimstone to
be tortured forever and ever.
And along with Satan,
will be the condemned
whose names are not found
in the Lambs Book of Life..
. for all must stand in front of Him
who sits on the Throne, and be judged
according to his works.

When all these things
have come to pass,
God will create a
New Heaven and a New Earth.
And upon the New Earth
will sit the New Jerusalem.
It will be free of sin...
and pain... and sorrow
...and tears... and death,
for the things of the
old earth will have
passed away and all things
will have become new.
The inhabitants of the
New Jerusalem will
have glorified bodies.
And the most wonderful
part of spending eternity
in Heaven will be that Christ
will be right there with us.

In the Book of Revelation
we are given
the most beautiful
description of the
New Jerusalem with it's
walls of pure gold
like clear glass.
The wall's foundation
will be adorned with
precious stones of jasper
, sapphire, chalcedony,
emerald, sardonyx,
sardius, chrysolite,
beryl, topaz, chrysoprase,
jacinth and amethyst.
The twelve gates
will be made each
of a single pearl,
and the streets of
the city will be paved
with pure gold as clear
as transparent glass.
And from the
throne of God and of
Jesus Christ will run a
clear as crystal river of life
surrounded on each side by
the tree of life bearing it's own fruit.

This is not the end...
it is just the beginning.

Oh to live eternity with our
Lord and Savior, Jesus Christ.
In Revelation 22:12-14 we read...
"And behold, I am coming quickly,
and My reward is with Me, to give
to every one according to his work.
I am the Alpha and the Omega,
the Beginning and the End,
the First and the Last."
Blessed are those who
do His commandments,
that they may have the
right to the tree of life,
and may enter through
the gates to the city.

The Rapture of the church
could come at any time.
We have been asked to
remain on guard... vigilant..
. for that time no man knows.
God is still waiting for
man to repent of his sins.

Have you asked Jesus to be
the Lord and Savior of your life?





The Four Great Archangels

Michael ~ Gabriel ~ Raphael ~ Uriel





~ Michael ~

Michael is the symbol of "Divine Justice."
His name signifies "he who is like God,"
and he is considered the greatest
of all angels in Christianity, Judaism, and Islam.





~Gabriel ~

Gabriel is the Angel of Annunciation,
of Death and Ressurection,
of Vengence and Compassion
and the divine
messenger who reveals
God's will to humanity.
He and Michael are the
only angels mentioned by name
in the Old Testament,





~ Raphael ~

Raphael is the Angel of Dawn,
Prince Regent of the Second Heaven , the Protector of the Earth, which he heals, and the Chief of the Virtues. His name means "God has healed," and he is known as the "divine physician," and is said to have the power to heal all illnesses. His color green is the healing color of nature,
the color of spring and rejuvenation.





~ Uriel ~

Uriel is a Prince of Divine Presence and
the Angel of Salvation.
He protects
against lightning, thunder,
volcanic eruptions
and earthquakes,
and is the angel
God sent to warn Noah
of the coming flood.
He has been identified
as one of the angels
who helped bury Adam
and Abel in Paradise.
His name is said to derive
from the prophet Uriah.
In Hebrew Urial means
"light of God, or "God's light."






Happiness keeps You Sweet,

Trials keep You Strong,

Sorrows keep You Human,

Failures keep You Humble,

Success keeps You Glowing,

But Only God keeps You Going!








Psalm 23


This is an eye opener...
Some probably never thought
nor looked at this Psalm in this way...
even though they say it over and over again.



The Lord is my Shepherd
That's Relationship!


I shall not want
That's Supply!

He maketh me to lie down in green pastures.
That's Rest!

He leadeth me beside the still waters.
That's Refreshment!

He restoreth my soul
! That's Healing

He leadeth me in the paths of righteousness.
That's Guidance!

For His name sake
That's Purpose!

Yea, though I walk through the
valley of the shadow of death.
That's Testing!

I will fear no evil.
That's Protection!

For Thou art with me
That's Faithfulness!

Thy rod and Thy staff they comfort me,
That's Discipline!

Thou preparest a table
before me in the presence of my enemies.
That's Hope!

Thou anointest my head with oil,
! That's Consecration

My cup runneth over.
That's Abundance!

Surely goodness and mercy
shall follow me all the days of my life.
That's Blessing!

And I will dwell in the house of the Lord.
That's Security!

Forever.
That's Eternity!

Face it,
the Lord and I
think you are special.



Just listen with an open ear,
and angels will calm your every fear.





THANKS TO JOANN

I wonder what would happen
if we treated our Bible
like we treat our cell phones?

What if we carried it around
in our purses or pockets?
What if we turned back to go get it
if we forgot it?
What if we flipped through it
several times a day?


What if we used it to receive
messages from the text?
What if we treated it like
we couldn't live without it?
What if we gave it to kids as gifts?
What if we used it as we traveled?
What if we used it in
case of an emergency?


This is something to make you go
.hmm...where is my Bible?



Oh, and one more thing.
Unlike our cell phone,

we don't ever have to worry
about our Bible being
disconnected because
Jesus already paid the bill!

. Makes you stop & think "
where are my priorities?"

And no dropped calls !





Angels show themselves to you
when you least expect it ---
often when all hope is lost.





PrayerForce is the
prayer ministry of the
Princeton Church of God!



PrayerForce welcomes you!
PRAYERFORCE IS ONE OF THE MINISTRIES
OF THE
PRINCETON CHURCH OF GOD
IF YOU LIVE IN THE AREA OR
SURROUNDING AREA
PLEASE COME VISIT US




I WANT TO HONOR LINDA
AS SHE HONOR'S GOD
WITH HER COMMITMENT
TO PRAYERFORCE
AND HER LIFE.

I WANT TO HONOR JERRY
AS HE HONORS GOD
WITH HIS COMMITTMENT
TO HIS MUSIC
AND HIS LLIFE

I LOVE YOU BOTH


LINDA AND JERRY SHINAULT


Friends Are Like Angels~

Our friends are like angels,
Who brighten our days.
In all kinds of wonderful,
Magical ways.

Their thoughtfulness comes,
As a gift from above.
And we feel we're surrounded,
By warm, caring love.

Like upside-down rainbows,
Their smiles bring the sun.
And they fill ho-hum moments,
With laughter and fun.

Friends are like angels,
Without any wings.
Blessing our lives,
With the most precious things.
Author Unknown








PRAY THIS EVEN IF YOU DON'T FEEL LIKE IT!!
IT WILL ONLY TAKE A MINUTE.
I understood God to say,
"You need a miracle tomorrow....
so here goes...
Prov. 29:25...

You never know when
God is going to bless you!!
Good things happen
when you least expect them to !!!!!!!!

Dear Lord,



I thank You for this day
I thank You for my being able to see
and to hear this morning.
I'm blessed because You are a forgiving God
and an understanding God.
You have done so much for me and
You keep on blessing me.
Forgive me this day for everything I have done,
said or thought that was not pleasing to you.



I ask now for Your forgiveness.
Please keep me safe from all danger and harm.
Help me to start this day with a new attitude
and plenty o f grat itude
Let me make the best of each and every day
to clear my mind so that I can hear from You.
Please broaden my mind
that I can accept all things.
Let me not whine and
whimper over things I have no control over.
And It's the best response
when I'm pushed beyond my limits.



I know that when I can't pray,
You listen to my heart.
Continue to use me to do Your will.
Continue to bless me that
I may be a blessing to others.
Keep me strong that I may help the weak...
Keep me uplifted that I may have words
of encouragement for others.



I pray for those that are lost
and can't find their way.
I pray for those that are
misjudged and misunderstood.
I pray for those who
don't know You intimately.
But I thank you that I believe
that God changes people and
God changes things.
I pray for all my sisters and brothers.
For each and every family member in their households.
I pray for peace, love and joy in their homes
that they are out o f debt
and all their needs are met.


I pray tha t every eye that reads this knows
there is no problem, circumstance,
or situation greater than God.
Every battle is in Your hands for You to fight.
I pray that these words be received
into the hearts of every eye that sees it.


. God Bless!!!!!!!!!!!
Just repeat this phrase
and see how God moves!!
God I love you and I need you,
come into my heart
AMEN



Be joyful in hope,

patient in affliction,

faithful in prayer.


A PRAYER FOR YOU

Father,

I ask You to bless my friends,
relatives and those I care deeply
for who are reading this right now.

Where there is joy,
give them continued joy,

Where there is pain,
give them your peace and mercy.

Where there is self-doubt,
release a renewed confidence.

Where there is need,
fulfill their needs.

Bless their homes, families, finances,
their goings and their comings.

In Jesus' name Amen.



IT IS WHEN YOU GIVE OF
YOURSELF THAT YOU TRULY GIVE.






PRAYING FOR YOU
JOHN 3:16

A little boy was selling newspapers on the corner,
the people were in and out of the cold.

The little boy was so cold that he wasn't trying to sell
many papers.

He walked up to a policeman and said,
"Mister,
you wouldn't happen to know where a poor boy could
find a warm place to sleep tonight would you?

You see, I sleep in a box up around the corner there and
down the alley and it's awful cold in there for tonight.

Sure would be nice to have a warm place to stay."




The policeman looked down at the little boy and said, "You
go down the street to that big white house and you knock
on the door. When they come out the door you just say
John 3:16, and they will let you in."

So he did. He walked up the steps and knocked on the
door, and a lady answered. He looked up and said,
"John 3:16." The lady said, "Come on in, Son."

She took him in and she sat him down in a split bottom
rocker in front of a great big old fireplace, and she went
off. The boy sat there for a while and thought to himself:
John 3:16...I don't understand it, but it sure makes
a cold boy warm.






Later she came back and asked him "Are you hungry?"
He said, "Well, just a little. I haven't eaten in a couple of
days, and I guess I could stand a little bit of food,"

The lady took him in the kitchen and sat him down to a table
full of wonderful food. He ate and ate until he couldn't eat
any more. Then he thought to himself:
John 3:16...Boy, I sure don't understand it but it sure
makes a hungry boy full.




She took him upstairs to a bathroom to a huge bathtub
filled with warm water, and he sat there and soaked for a
while. As he soaked, he thought to himself: John 3:16...
I sure don't understand it, but it sure makes a dirty boy
clean. You know, I've not had a bath, a real bath, in my
whole life. The only bath I ever had was when I stood in
front of that big old fire hydrant as they flushed it out.
The lady came in and got him. She took him to a room,
tucked him into a big old feather bed, pulled the covers
up around his neck, kissed him goodnight and turned out
the lights. As he lay in the darkness and looked out the
window at the snow coming down on that cold night,
he thought to himself: John 3:16...I don't understand it but
it sure makes a tired boy rested.





The next morning the lady came back up and took him
down again to that same big table full of food. After he
ate, she took him back to that same big old split bottom
rocker in front of the fireplace and
picked up a big old Bible.




She sat down in front of him and looked into his young face.
"Do you understand John 3:16?" she asked gently. He
replied, "No, Ma'am, I don't. The first time I ever heard it
was last night when the policeman told me to use it,"
She opened the Bible to John 3:16 and began to explain
to him about Jesus. Right there, in front of that big old fireplace,
he gave his heart and life to Jesus. He sat there
and thought: John 3:16 -- don't understand it, but it sure
makes a lost boy feel safe.





You know, I have to confess I don't understand it either,
how God was willing to send His Son to die for me, and how
Jesus would agree to do such a thing. I don't understand
the agony of the Father and every angel in heaven as
they watched Jesus suffer and die.
I don't understand the intense
love for ME that kept Jesus on the cross till the end..
I don't understand it, but it sure does make life worth living.
John 3:16
For God so loved the world, that he gave his only
begotten Son, that whosoever believeth in him should
not perish, but have everlasting life.





The love of Jesus Christ &
the fellowship
of the Holy Spirit be with you all.
God bless & enjoy the day.



YOU ARE BLESSED


If you woke up this morning
with more health than illness,
you are more blessed than the
million who won't survive the week.

If you have never experienced
the danger of battle,
the loneliness of imprisonment,
the agony of torture or
the pangs of starvation,
you are ahead of 20 million
people around the world.

If you attend a church meeting
without fear of harassment,
arrest, torture, or death,
you are more blessed than almost
three billion people in the world.

If you have food in your refrigerator,
clothes on your back, a roof over
your head and a place to sleep,
you are richer than 75% of this world.

If you have money in the bank,
in your wallet, and spare change
in a dish someplace, you are among
the top 8% of the world's wealthy.

If your parents are still married and alive,
you are very rare,
especially in the United States.

If you hold up your head with a smile
on your face and are truly thankful,
you are blessed because the majority can,
but most do not.

If you can hold someone's hand, hug them
or even touch them on the shoulder,
you are blessed because you can
offer God's healing touch.

If you can read this message,
you are more blessed than over
two billion people in the world
that cannot read anything at all.

You are so blessed in ways
you may never even know.

you are a recipient of a blessing,
keep the blessing working by
being the source of blessing to other people.




Be Thankful



Be thankful that you don't
already have everything you desire,
for if you did, what would
you have to look forward to?




Be thankful when you don't know something,
for it gives you the opportunity to learn.




Be thankful for the difficult times.
During those times you grow.




Be thankful for your limitations,
because they give you
opportunities for improvement.




Be thankful for each new challenge,
because it will build your
strength and character.




Be thankful for your mistakes.
They will teach you valuable lessons.




Be thankful when your tired and weary,
because it means you've made a difference.




It easy to be thankful for the good things.
A life of rich fulfillment comes to those
who are also thankful for the setbacks.




Gratitude can turn a negative into a positive.
Find a way to be thankful for your troubles,
and they can become your blessings.






MY LIFE STORY

My life began on a mountain in McComas WV
About 10 miles outside of Bluefield. I was the
Oldest daughter but the fourth child.
I have three older brothers and one younger brother
In addition, three younger sisters. I went tO
Bramwell High School and graduated in June 1965.
In the meantime, I had met
Tenny (Samuel David Coates)
In Newport News VA in 1963 and
I had not heard from him until Dec of 1965.
He called me every weekend after
that until we got married.
On Easter He asked me to marry Him
And I said yes and on July 1, 1966
He came to WV and we went on Sat and got our
Blood test and on Tuesday July 5, 1966
We were married in Tazewell Va.
My Life has had a lot of Blessing and a lot of Sorrow.
Tenny and I had three wonderful children.
They are the Blessings in my life


Vicki Coates Walker and she has three children



Lisa Yvonne Coates and she has Two Boys


David Coates-his wife Joann and they have two children



David has three boys that I don't get to see very often.




Pictures will be posted on Special Memories.




ON AUGUST 4, 1992 TENNY WAS TAKEN
WITH A MASSIVE HEART ATTACK I THOUGHT
THAT MY LIFE WAS OVER. AFTER 26 YEARS, I DID NOT
KNOW HOW TO GO ON. I HAD CANCER AND DID NOT KNOW
IF I WOULD MAKE IT BUT I DID.AND I APPRECIATE THE
LIFE AND THE FAMILY THAT I HAVE TODAY.
TODAY I KNOW THAT YOU'RE IN HEAVEN
AND THERE IS NO MORE PAIN
AND SUFFERING FOR YOU
I LOVE AND MISS YOU STILL.
SAMUELDAVIDCOATES@IN-MEMORY-OF.COM





IN JUNE OF 1993 I MET RAY MARLEN BAILEY
WE SEEN EACH OTHER FOR A FEW MONTHS
AND ON OCTOBER 2, 1993 We REMARRIED.
RAY'S WIFE HAD DIED ON AUG. 19 1992 AND
HE WAS GRIEVING AND I THINK OUR GRIIEF
BROUGHT US TOGETHER BUT
IT WAS OUR LOVE THAT
KEPT US TOGETHER.




ON MAY 9, 2006, AFTER 200 DAYS IN
THE HOSPITAL, RAY PASSED AWAY
I WOULD NEVER WANT YOU TO SUFFER
LIKE YOU DID AND I KNOW THAT
HEAVEN IS A BETTER PLACE.
I WILL ALWAYS LOVE AND
MISS YOU.
RAYBAILEY@IN-MEMORY-OF.COM


THE LIVES I HAD WITH EACH OF THESE MEN
WAS VERY PRECIOUS TO ME AND
NEITHER COULD EVER BE FORGOTTEN.




The moment that you died,
my heart split in two.
One side filled with memories.
The other died with you.
I often lay awake at night,
when the world is fast asleep.
And take a walk down memory lane,
With tears upon my cheeks,
Remembering you is easy,
I do it every day.
But missing you is heartache,
that never goes away.
I hold you tightly within my heart,
And there you will remain.
Life has gone on without you,
But never will be the same.




An angel can illumine the
thought and mind of man by
strengthening the power of vision,
and by bringing within his
reach some truth which the angel
himself contemplates.~
St. Thomas Acquines






Let us not love in words,
neither in tongue, but in deed
and in truth."
~John 3:18~

These things I command you,
that ye love one another."
~John 15:17~




When love speaks,
the voice of God
Makes heaven
drowsy with the harmony.
~William Shakespeare





One night a man had a dream.
He dreamed he was walking
along the beach with the LORD.
Across the sky flashed scenes from his life.
For each scene he noticed two sets of
footprints in the sand: one belonging
to him, and the other to the LORD.

When the last scene of his life
flashed before him, he looked back at the
footprints in the sand. He noticed that many
times along the path of his life there was only
one set of footprints. He also noticed that it
happened at the very lowest and saddest
times in his life.

This really bothered him and he
questioned the LORD about it:
"LORD, you said that
once I decided to follow
you, you'd walk with me all the way.
But I have noticed that during the most
troublesome times in my life,
there is only one set of footprints.
I don't understand why when
I needed you most you would leave me."

The LORD replied:
"My son, my precious child,
I love you and I would never leave you.
During your times of trial and suffering,
when you see only one set of footprints,
it was then that I carried you."





love these little people;
And it is not a slight thing,
When they, who are so fresh
From God, love us.~




BUTTERFLY KISSES



Outside the open window
The morning air
Is all awash with angels



Perfect submission, perfect delight!
Visions of rapture now burst on my sight;
Angels descending bring from above,
echos of mercy, whispers of love."~





Guardian angels work on
a wing and a prayer.~



Jesus withdrew from them,
went down on his knees and prayed.
An angel then appeared to him from Heaven to strengthen Him
Luke 22:41




Click here to see JOYCE BAILEY's

Family Tree
| | |
| --- | --- |
| Guestbook | |

family


Hi Joyce, your father and my mother were brother and sister. my mother was Hattie. Your Story is very interesting

Dream


Hi, you don't know me but I dreamt about your name. I got up and googled you and I found your website. I dreamt of some other inspirational people also but I only recalled your name when I woke up. May God continue to bless your eve... Continue >>

We love you dearly


Aunt Joyce we love you dearly and miss you very much. You are such a wonderful person.

greeting


"I the Lord- with the first of them and with the last -I am he."joy and joy for our God Is powerful God still today he will not shange and not be weary or weak,his safe we will get peace and harmony with ... Continue >>

It's Too Soon to Quit


It's Too Soon to Quit Today's Scripture: "Our God will fight for us!" (Nehemiah 4:20) Today's Word from Joel and Victoria: God wants to give you great and mighty things. He wants to unleash the blessings of heaven right into your lap.&... Continue >>
A Brand New Future Read >>
We love you! Read >>
Be compassionate Read >>
We love you Read >>
To my Dear Friend Read >>
they are the sunshine of my life Read >>
| | |
| --- | --- |
| Special Memories | |

Murder miracle in Egypt





Murder miracle in Egypt


.A Muslim man in Egypt killed his wife and
then buried her with their infant baby
and 8-year old daughter. The girls

were

buried alive!He then reported to the police that an uncle killed the kids.
15 days later, another family member died. When they went to bury him, they
found the 2 little girls under the sand - ALIVE !The country is outraged
over the incident, and the man will be executed.The older girl was asked

how

she had survived. A man wearing shiny white clothes, with bleeding wounds

in

his hands, came every day to feed us. He woke up my mom so she could nurse
my sister,' she said. She was interviewed on Egyptian national TV, by a
veiled Muslim woman news anchor.She said on public TV, 'This was none

other

than Jesus, because nobody else does things like this!'Muslims believe Isa
(Jesus) would do this, but the wounds mean He really was crucified, and it

s
clear also that He is alive! But, it's also clear that the child could not
make up a story like this, and there is no way the se children could have
survived without a true miracle. Muslim leaders are going to have a hard
time to figure out what to do with this, and the popularity of the Passion
movie doesn't help!With Egypt at the centre of the media and education in
theMiddle East, you can be sure this story will spread.Christ is still
turning the world upside down!
Please let this story be shared.
The Lord
says,I will bless the person
who puts his trust in me.'

Jeremiah 17:7




thomas kinkade




The Rain-Thomas Kinkade









If God brings you to it, He will bring you through it.
Happy moments, praise God.
Difficult moments, seek God.
Quiet moments, worship God.
Painful moments, trust God.
Every moment, thank God.


tribute to the 9 south carolina




A Tribute to 9 South Carolina
FireFighters


link with angelfamilies.com

GO TO (REMEMBERINGOURANGELS)
TO SEE THE FULL MEMORIAL AND MUSIC.
TAKE A MOMENT FOR SILENT PRAYER
FOR THE FAMILIES OF THESE FALLEN
HERO'S. THEY WILL ALWAYS BE IN
OUR THOUGHT'S AND PRAYERS







CHARLESTON, SC (WIS/AP) - Charleston paused to remember the nine firefighters killed in a blaze there earlier this week in a moving memorial and tribute to them.

Firefighters from as far away as Alberta, Canada attended the memorial.

A silent procession of mostly fire trucks and firefighters from all over the country stretched for miles and began Charleston's day of mourning.

Charleston resident Diane Jeffcoate said, "They are one big family, firefighters, they are. I never realized it until today."

The procession moved past the various fire stations where the fallen firefighters worked and passed thousands who lined the streets to pay their respects, especially along the stretch of road that passes the furniture store where the nine firefighters died in a blaze Monday night.

Thousands more packed Charleston's coliseum - all eyes drawn to the nine flag draped coffins on stage and to hear tributes from near and far.

Charleston Mayor Joe Riley said, "As they entered that building, they walked into the pages of history of our
community."





CHARLESTON, SC (WIS/AP) - Charleston paused to remember the nine firefighters killed in a blaze there earlier this week in a moving memorial and tribute to them.

Firefighters from as far away as Alberta, Canada attended the memorial.

A silent procession of mostly fire trucks and firefighters from all over the country stretched for miles and began Charleston's day of mourning.

Charleston resident Diane Jeffcoate said, "They are one big family, firefighters, they are. I never realized it until today."

The procession moved past the various fire stations where the fallen firefighters worked and passed thousands who lined the streets to pay their respects, especially along the stretch of road that passes the furniture store where the nine firefighters died in a blaze Monday night.

Thousands more packed Charleston's coliseum - all eyes drawn to the nine flag draped coffins on stage and to hear tributes from near and far.

Charleston Mayor Joe Riley said, "As they entered that building, they walked into the pages of history of our community."



New York City's Fire Department sent its pipe and drum corps, the one that played repeatedly in the wake of 9/11.

And there were more tributes.

Charleston Fire Chief Rusty Thomas says the nine firefighters will never be forgotten. Thomas recounted a personal story about each of the firefighters.

South Carolina Governor Mark Sanford said, "No matter what I say, the reality is that come Sunday supper, some dads that would of been there aren't gonna be home."

Many who called the memorial amazing also said they never want to see one again.








MISCELLANEOUS











Open your heart to love
And hear the song
Of an angel








And God Said, "No"

I asked God to take away my pride, and God said "No"
He said it was not for Him to take away, but for me to give up.
I asked God to make my handicapped child whole, and God said, "No"
He said the body is only temporary.
I asked God to grant me patience, and God said, "No"
He said patience is a by-product of tribulation, it isn't granted
it's earned.
.
I asked God to give me happiness, and God said, "No"
He said He gives His blessings, Happiness is up to me.
I asked God to spare me from pain, and God said, "No"
He said suffering draws me apart from worldly cares and
brings me closer to Him.
I asked God to make my spirit grow and God said, "No"
He said I must grow on my own, but He will prune me to make
me fruitful.
I asked God if he loved me and God said,"Yes"
He gave His only Son who died for me, and I will be in
heaven some day, because I believe.
I asked God to help me love others as much as He loves me,
and God said, "Ah, finally you have the idea.!"







BEFORE I WAS A MOM




THIS IS A TRIBUTE TO
ALL THE MOTHER'S

HAPPY MOTHER'S DAY TO ALL

AFTER MOTHER'S DAY
THIS WILL BE MOVED TO
SPECIAL MEMORIES


Before I was a Mom,

I never tripped over toys or
forgot words to a lullaby.

I didn't worry whether
or not my plants were
poisonous.
I never thought
about immunizations.

Before I was a Mom...

I had never been puked on.
..pooped on.
.chewed on.
.peed on.

I had complete control of
my mind and my thoughts.

I slept all night.

Before I was a Mom,

I never held down a screaming
child so doctors
could do tests...
.Or give shots.

I never looked into
teary eyes and cried.

I never got gloriously
happy over a simple grin.

I never sat up late hours
at night watching a baby
sleep.

Before I was a Mom,

I never held a sleeping baby
just because I
didn't want to put them down.

I never felt my heart break
into a million pieces
when I couldn't stop
the hurt.

I never knew that something
so small could affect my
life so much.

I never knew that I could
love someone so much.

I never knew I would
love being a Mom.

Before I was a Mom,

I didn't know the feeling of
having my heart outside my body.
I didn't know how special
it could feel to feed a
hungry baby.

I didn't know that 'bond'
between a mother and her
child.

I didn't know that something
so small could make me
feel so important and happy.

Before I was a Mom,

I had never gotten up in the
middle of the night
every 10 minutes to
make sure all was okay.

I had never known the warmth,
the joy, the love, the
heartache, the wonderment
or the satisfaction of being a Mom.

I didn't know I was capable
of feeling so much,
before I was a Mom.

YOU ARE A VERY SPECIAL MOM!!!

THANKS TO MY DAUGHTER-IN-LAW
(JOANN)
FOR THIS WONDERFUL COMPLIMENT

JOYCE's Photo Album